Covid 19 - Welsh Covid Passports - the Detail
Further to our news item on the Welsh government adoption of the use of Covid passports we now have some working examples as to how and when they will be required to be used.
To confirm use of Passports are activated when any venue meets three main considerations.
firstly, a venue that is authorised to serve or supply alcohol;
secondly, a venue that is open late at night between the hours of midnight and 5am;
thirdly, a venue where music is provided for dancing. The venue must meet all three considerations to be captured by the requirement to operate a COVID pass.
However, the venue is captured by the requirement to operate the pass at all times (not just between the hours of midnight and 5am) if music is provided for dancing.
Penalties for non compliance
The same enforcement regime as those applying to the requirements to carry out risk assessments and take reasonable measures.
A premises improvement notice or premises closure notice.
Fixed penalty notice - maximum fine for businesses being £10,000 - an offence has been created against an individual, with respect to the falsification of information or test results in order to gain entry to an event or venue
EXAMPLES
Scenario: A venue opens at 4pm and closes at 3 am. It is licenced to serve alcohol after midnight and has a dancefloor with a DJ from 10pm until the venue closes at 3 am.
This venue must operate checks to ensure that only those who can provide proof they are fully vaccinated, exempt or have had a negative test result is present from 10pm to 3am as the venue meets all of the conditions of the scheme. To help manage the operation of the scheme, the venue could choose to start asking for proof of status at the point the dance floor opens at 10 pm or any time before. However, it will be for the venue to decide how to operate the scheme.
Scenario: A venue opens at 4 pm and ceases operations at 11 pm. Live music is available between the hours of 5 and 9 pm and the dancefloor is open during these hours
The venue would not need to check the status of those who enter this venue as it ceases operation before midnight so does not meet all of the trigger conditions .
Scenario: A venue that normally opens between midday to 3am has in the run up to Christmas, booked a DJ for the premises for each day from Midday to 3am. There is no dancefloor but ,music is being played and people are dancing.
This venue must operate COVID checks at all times that the DJ is present and music is being played for people to dance
Scenario: A football match taking place at a football stadium which has sold 50,000 tickets.
This event will need to apply checks to those entering the event because the event will exceed the event attendee threshold.
Scenario: A music festival taking place at an outdoor venue which can accommodate 5,000 attendees. The event organiser capped ticket sales at 3,000. The event organiser sells all 3,000 tickets.
This event does not need to apply checks prior to entry to this event as, although the venue has a maximum capacity of 5,000, the event organiser capped ticket sales at 3,000. This means the event attendance will be below the threshold for outdoor events.
What do guests have to show?
NHS COVID status can be demonstrated in a number of ways:
Digital solution such as the NHS COVID Pass which has evidence of proof of full vaccination, recovery (this is a positive PCR result within 180 days (individual must have completed the mandatory 10 day isolation period from the date of the result).
The Recovery PCR result can also be presented via text or e-mail.
a paper- based certification of full vaccination
Confirmation of a negative test results by text or email
Below are some illustrations of what you need to look for and can accept: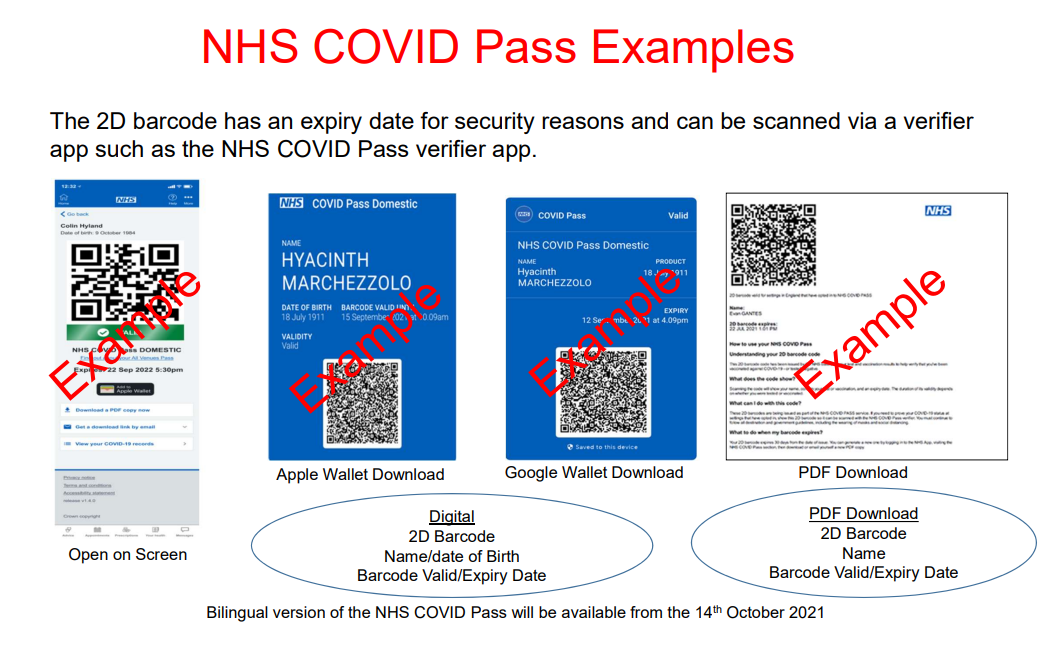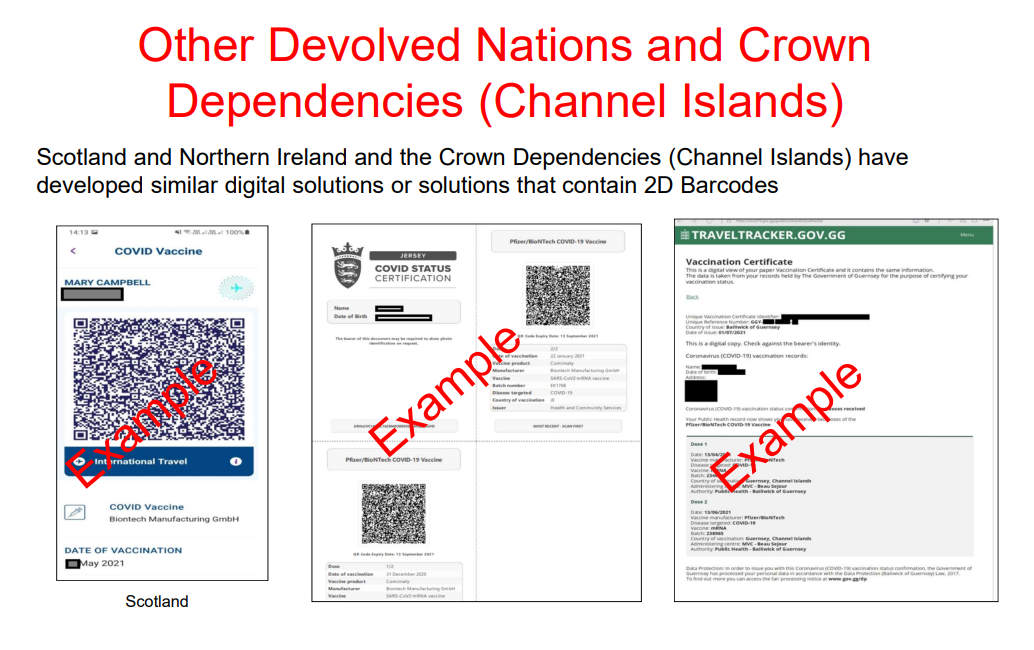 Law correct at the date of publication.
Back to Latest News